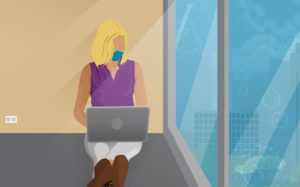 How The Pandemic Is Affecting Technology
2020 has brought radical changes to the way we work, play and communicate. Technology has been central to the adaptations that businesses and consumers have been making to adjust to the new realities.
Remote work has been promoted as a way that many office workers and professionals can continue to be productive during periods of shutdowns and social distancing. Using remote solutions like LogMeIn and TeamViewer, workers can access company computers from home (or anywhere with an internet connection). This gives more flexibility, but also underscores the need for companies to maintain strong security protocols to prevent breaches from third parties.
The move to remote meetings and events has also had an impact on the global availability of webcams. Prominent peripheral manufacturer Logitech has scaled up manufacturing, but you might find it difficult to find a quality webcam in stock right now and the prices have increased to reflect this shortage.
Hardware supply disruptions have made for volatile pricing across the industry this year. Shutdowns of entire regions and factories in China in the winter and spring resulted in serious delays for major manufacturers of laptops and desktops. As a result, prices skyrocketed for most computers in April and May. A reduction in sales of desktops worldwide has put downward pressure on market prices for many business class machines into the summer. Laptops and tablets continue to be in high demand however, as industries and educational institutions continue to implement remote work models.
Of course, no conversation about the current state of tech would be complete without mentioning scams. COVID-19 related scams have cost Americans almost $100 million in 2020. The increase of people working from home with new solutions and unfamiliar technology has led to a rise in phony tech support scams, among others. If you are having problems with hardware or software, don't just Google tech support—go to the manufacturer's actual website and find the "Contact Us" section. Bogus tech support outlets purchase paid listings in search results to mislead people trying to reach support for major companies such as HP and Microsoft.
If you need assistance navigating the unstable tech terrain of 2020, reach out to your trusted local professionals at Mankato Computer Technology.