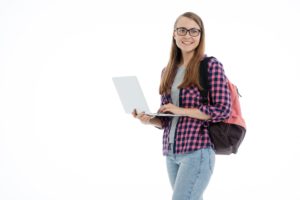 As kids return to classes, 2020-2021 promises to be a school year like no other. Many schools have instituted systems of hybrid or remote learning, where students complete some or all of their coursework online. Here are a few things to consider, to make sure your student has everything they need to keep them safe and productive this year.
What Device Works Best?
Most remote schooling takes place completely online on educational websites, so most students will basically just need an internet machine. That being said, a tablet or cell phone is probably not ideal, as a full keyboard may be necessary to quickly complete assignments.  Many school districts (Including ISD 77, right here in Mankato) have recognized the utility and affordability of Chromebooks and have begun issuing the machines to their students. Assignments can be completed and turned in on Google Docs and the OS is sufficiently locked down so that administrators don't need to worry about viruses being installed on the hard drives. If your child's school district doesn't provide computers, the Chromebook is a smart choice.
Good Options For PCs
If your child is using a PC for their online schooling, you might not be able to monitor their activities all the time. The Microsoft Kids account is a good option to keep tabs on your child's activities. Once the accounts are set up and your child has a unique login, you can proceed to configure the filtering and use settings for your child's account. Microsoft has created a good filtering system to run on their Edge browser. This will stop children from visiting explicit and inappropriate websites; parents can also add specific domains they wish to block or whitelist, as well as blocking the use of InPrivate browsing or installing another browser. Each week the parent account will receive an email with a report, breaking down what sites the child visited, what they searched for and how much time they spent using programs or games. It is also possible to log in at any time and get a daily snapshot of how (and how long) your child is using the computer.
Keeping Your Whole Network Kid-Friendly
Disney and Netgear have teamed up to offer network control solutions which establish content filters and screen time controls similar to the Microsoft Kids Account, but across your entire home network. Circle by Disney is a sleek, stylish Wi-Fi device that can be added to your existing wireless network. Through the easy-to-use mobile app, circle allows you to monitor how your children are using their devices, filter explicit content, set bedtimes when devices will go offline and much more. This will allow you to monitor your kids and ensure their safety, whether they're using a Chromebook, an Android tablet, an iPhone, a PC or a Mac.
If you have questions about how to get your family set up for school this year, don't hesitate to contact Mankato Computer Technology, your trusted local experts.