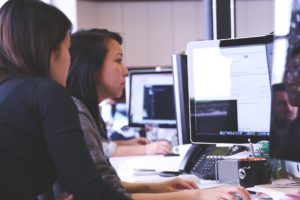 As we roll into autumn, businesses will be looking toward the end of the fiscal year and savvy office managers should incorporate technology planning into their end of year calculations. There are many aspects of this planning that include simple maintenance, replacing outdated machines, updating networks and keeping the office running smoothly—but one crucial element of planning should be to determine areas of the business that could be more efficient and explore solutions to increase productivity. A Managed Service Provider can help your business accomplish these objectives and take the guesswork out of your annual technology planning.
Life-Cycle Management
Tracking the age and specifications of the computers deployed in your office should be part of planning for the upcoming year. Computers which are over 3 or 4 years old should be prioritized for replacement. Machines that are running older operating systems, such as Windows 8, should also be flagged for upgrade or replacement. Scheduling these upgrades will allow companies to replace machines gradually and spread the costs throughout the year, rather than rushing to replace multiple systems at once.
Tech For The Task
Something that is often overlooked when considering technology planning is the potential for new solutions that can increase efficiency for everyday processes. What aspects of the job do people in the office complain about? What are the bottlenecks where automation or other technological solutions can save time and money? Are employees spending hours each year staring at loading screens, or waiting for long file transfers due to slow networks? It can be easy for organizations to become set in their ways and not question processes enough to make improvements, but making a workflow assessment part of your annual technology planning can ensure that the company continues to evolve and improve.
Call In The Pros
If all this planning sounds daunting, it might make sense for your organization to seek assistance from a Managed Service Provider. At Mankato Computer Technology, we create Annual Technology Reviews for each of our Managed Clients. These ATRs include Life Cycle Management, proposals for network improvements and security oversight. Annual plans offer prioritized proposals, ranked by urgency to allow each company to budget for the most important initiatives and create a multi-year IT strategy. For companies that experience rapid growth, it is common for operations to expand quickly, outpacing the necessary IT infrastructure. This can create eventual stumbling blocks, as machines and networks are overworked or added without careful planning. With the help of a Managed Service Provider, companies can grow and expand smoothly, finding new solutions and keeping current systems working properly.
The summer moves by in a hurry and fall can be a hectic time as students return to school and businesses gear up for the end of the fiscal year. Don't allow this time to pass without creating a strategic plan to ensure your technology keeps your business running at its full potential. Talk with the team at Mankato Computer Technology to learn what a Managed Service Provider can do for your organization's strategic plan.