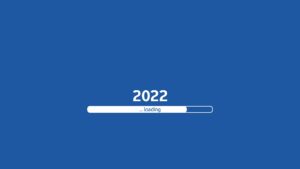 Another new year has come and this is a great opportunity to do some maintenance and planning to keep your computer running well. Here's our 2022 New Year's Computing Checklist:
Move Forward By Backing Up
Every computer has a storage drive and every drive will eventually fail. If you have any information on your computer that you don't want to lose, it is important to set up some sort of backup. This can be a local backup, in the form of an external hard drive, or a cloud backup program that uploads your data to an offsite server. The best backups are the ones you can set once and will run automatically, without further prompting, such as LiveDrive.
Clear Out The Clutter
The longer a computer is in use, the more it tends to accumulate unnecessary or unwanted programs. Take this opportunity to check your installed program list through control panel. Maybe there's a program you don't use anymore, or something you thought you might need, but didn't. Uninstalling these applications can save space and system resources, as well as reducing the number of processes that are running when you first boot up your system. It's also a good idea to open up your task manger (hit control, alt, delete) and navigating to the "startup" tab to see what programs are running on boot. Pretty much anything other than antivirus and backup programs can be disabled, for a faster startup experience.
Subscription Check
If you use a subscription antivirus, now is a good time to check and make sure it is up to date and determine how much time is left on your subscription. If you don't currently have an antivirus program, it's definitely a good idea to get one. Here at MCT we suggest Vipre Antivirus and Webroot Enterprise—both are available for sale and we can install them for you.
Remote Work
If the pandemic has taught us anything, it's that flexibility is a virtue. If you haven't yet, it's a good time to make sure you can complete your work or school tasks from home. People all over the world are adopting new tech to work, socialize and stay in touch with family. Having a good (secure) remote access solution can make it so any computer is a work computer. And programs like Microsoft Remote Desktop, TeamViewer, Zoom, Skype and Teams can ensure you'll be able to stay in touch, wherever you are.
Is It Time To Think About An Upgrade?
With tax return season quickly approaching, now is an excellent time to evaluate your current system. How old is your computer? How has it been running? After 3 to 5 years, it's normal for desktops and laptops alike to begin experiencing hardware failures. If you're running a computer in that age range, it might make sense to considering upgrading to something new for 2022. If your machine is running slower than it used to, a few hardware updates may be in order. To run Windows 10 well, most computers should have at least 8GB of RAM. If you are still using an old spinning hard drive, switching to a solid state drive could drastically improve your performance for far less than the price of a new system.
The Future Of Windows
Windows 11 is now out, but we're recommending users wait to upgrade, just to let Microsoft iron out the bugs. Still, it might be a good time to check if your machine will support Windows 11 when the time comes. Open PC settings and hit the "Updates" button. There should be some information there about whether your current hardware will support the new OS. If so, great. If not, you know you'll have to think about replacement before Windows 10 goes out of support in 2025.
If you have any other New Year's Tech resolutions, we'd be happy to help you find a solution: give Mankato Computer Technology a call today.