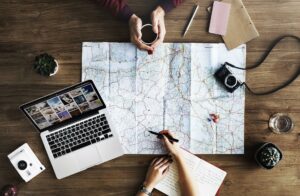 We're well into the midst of summer and for many families that means travelling. While some elements of travel remain the same—the cross-country family road trip, the weekend scrum at the airport—we now have new variables to consider; what technology do we bring with us while travelling and how do we use it safely and effectively? From what to take, how to take it and what to do with it on the way, we've compiled some tips for using your technology while travelling.
Weight A Minute
Lugging a heavy bag through airports and train stations is nobody's idea of a good time. When packing for a trip, consider what technology you need to take and whether you can bring a lighter device to accomplish the same tasks. Laptops are getting smaller and lighter all the time, while tablet sized computers are getting more powerful.
Take Charge
If you're planning to use a device during a long flight or car ride, consider how much battery life it has. Many laptops can now be used for 5 hours or more on a charge, while some tablets can go for 10 hours and beyond. Remember that watching videos or playing games will tend to drain the battery faster than listening to music or surfing the web. Don't forget the cords! Make sure you have a way to charge your device once you get to where you're going and remember your device may have a car adapter available for purchase. If you're traveling to another country, you'll want to plan ahead and purchase some international adapters for your chargers.
Security, IRL
We're used to thinking about security in terms of hacking, antivirus and data breaches, but physical security should be a top priority when travelling with expensive tech. Be careful where you are taking your devices out of your bags, don't leave your devices unattended and be certain that your devices are protected with passwords and drive encryption. PC drives can be encrypted with BitLocker (be sure you have access to your Microsoft account for the recovery key) and Macs can be locked with FileVault. Most mobile devices now have apps available that allow you to track your device if it is lost or stolen. A good protective case is also a necessity to protect your device from bumps and falls.
Taking The Office With You
While vacation usually means time away from work to spend with friends and family, being able to complete some essential work tasks remotely might mean being able to take a few more days away from the office. It's become standard for the typical worker to have access to their email in their off hours, but with remote desktop utilities, one can also access all the functions of your office computer from home or the road, granting an added level of freedom and flexibility. If you are working with sensitive information or connecting to your office computer from an unfamiliar network, be sure to use a VPN to avoid security vulnerabilities.
Are You Getting a Signal?
When travelling, it's always good practice to be wary of unfamiliar or unsecured Wi-Fi networks. Never check personal information or conduct financial business over an unsecured network. If your travels bring you abroad, you'll want to weigh your options ahead of time for cellular coverage. Most American phones won't work on the cellular networks in other countries; the exception is phones that have been "unlocked," or aren't tied to a specific carrier. Unlocked phones can be used in pretty much any country, all one needs to do is purchase a relatively inexpensive SIM card within the region they are visiting, pop that into their phone and it will be possible to use the local cell network. For those without unlocked phones, be prepared to rely on Wi-Fi and to use messaging apps or solutions like Skype, Zoom or Teams to do your texting and calling.
To Store Or Stream?
For those with long flights, train, or bus rides, you might want to download some entertaining content prior to departure, rather than relying on streaming enroute. Many Podcast enthusiasts are used to downloading the latest episode prior to going on a trip and new features for services like Netflix now allow you to download a movie or show and store it on your device for later—great for flights with no Wi-Fi or train rides through long tunnels with no data service.
With a little bit of planning and foresight, technology can be a welcome addition to the travel experience, providing valuable information, entertainment, and convenience. Of course, on some family trips the difference between a fine trip and some great memories will be dependent on knowing when to turn the technology off. That's a line that every family needs to navigate on their own. But if you need help with the gadgets, or advice for how to make them run while you're on the go this season, you can come down and see us at Mankato Computer Technology.