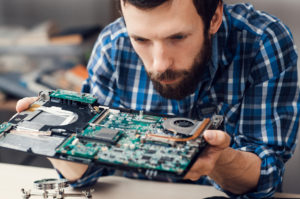 At Mankato Computer Technology we put a lot of effort into providing valuable experience for our employees. A positive company culture is a necessity for any growing business, and we strive to foster an enjoyable workplace where each member of our staff can take pride in their work.  Happy, hardworking employees directly lead to the exceptional service we deliver to our customers.
There are many roles within our team. Between our Service Depot, Project Team, and Support Desk we have desktop technicians, network solutions experts, account managers, and solutions managers, just to name a few. Further specialization within each department provides further room for several future management positions within the company.
There is also room for tremendous career growth here at MCT. As our company evolves, job specialization is a must. This means new positions often need to be filled, creating many more opportunities for our employees. We do our best to promote from within, and when new positions need to be filled, we'll try to give our current employees the opportunity before looking for an outside hire.
MCT believes in investing in our staff via continuing education and training. We encourage and pay for our staff to take time away from the office to pursue relevant certifications. All Tech Support Specialists receive ongoing training in key technical areas to expand their skills on a weekly basis. Several of our staff members are also involved in professional organizations and networking groups.
We always do our best to make sure that everyone on our team experiences a positive work environment, takes pride in their work, and has ample room for professional growth. Feel free to drop us a line if you're interested in employment opportunities at MCT. Check our careers page for detailed information on our current openings.