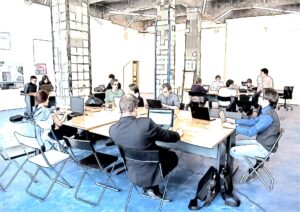 Do you see technology as a "necessary evil" or a strategic asset? Technology should be helping your business operate more effectively, and adding to your bottom line. One key area where technology has improved the modern work place is in collaboration tools. There are a variety of different products and services out there, so there are many ways for your employees to communicate and collaborate. Here's an overview of some of the most useful and commonly deployed types of collaboration tools:
Desktop Sharing
Have you ever had the experience of trying in vain to explain to someone what is on the computer screen in front of you? It's much easier to simply show them. There are many products available that allow you to share or present your screen to someone on another computer, such as Remote Desktop Protocol, Microsoft Teams, TeamViewer or LogMeIn. In some cases these tools are full blown remote access utilities (allowing a remote user to control what is on the other computer) while others are designed to simply share visuals on a call or during a meeting.
Messaging Apps  
You might recall the good old days of AOL Instant Messenger, but similar programs are making a comeback in the work place. Skype For Business, Slack, Teams and similar programs offer a great tool for your staff to chat with each other in an "instant messenger" style interface.  Many employees find this mode of communication to be faster and more efficient than sending an email. One of the best applications for instant messaging apps is as a chat forum between multiple people discussing a single topic. Many of us have had the experience of being included on long email chains which quickly become repetitive, messy or difficult to follow. Employing an instant messaging app allows those participating in a discussion to seamlessly add their thoughts in a forum which can easily be referred to at any time. Most instant messaging solutions also include file sharing and collaboration tools which allows participants to make changes to a centralized document.
Data Sharing
Services like DropBox, Microsoft OneDrive and SharePoint offer great tools to allow your staff to store and share data. You can give coworkers access to entire folders for a project you are collaborating on or give someone outside your organization access to a single file as needed. No more uploading large files to emails or putting data on a flash drive and driving it across town. Many sharing tools offer version history and with traceable audit trails which illustrate who made what changes (and allows users to revert to previous versions as needed).
Video Conferencing
For businesses with multiple locations, many remote workers or geographically distributed clients, it may make sense to invest in a formal video conferencing solution. Companies like Zoom offer complete package products to get you setup with your own video conferencing room, including high definition cameras, microphones, touch screens, computers to handle the video processing, and tablets to control the whole system. Cheaper solutions like GoToMeeting, Teams and the video conferencing capabilities of Google Meet are also worth considering if you're working with a tighter budget.
Improved employee collaboration can help any business operate more efficiently. If you're interested in how to improve your intra-office communication, call Mankato Computer Technology today.